Description
The FCS II GM PC Carbon X-Small Tri Fin Set blends the versatility of the Performer template with a specialized flex pattern that's part Performance Core, part Performance Core Carbon. A stiffer center fin gives power and stability while the carbon inlay in the side fins is springy with a dash of forgiveness.
Inside Foil Technology (IFT) – A sophisticated hydrodynamic foil consisting of a convex outside face, a rounded leading edge and a concaved inside face. Inside foil increases the efficiency of water flow over the surface of the fin adding lift and reducing drag. The result is a fin with more options through increased hold and speed.
FCS II Fin System – This fin is designed to be used exclusively with the FCS II Fin System, and will not fit in the traditional FCS Dual Plug System.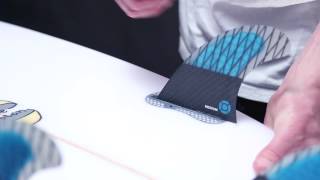 Gabriel Medina's Signature Fin – Versatile, all-round performance fins with GM custom carbon frame. 3D flex adapts to different conditions and allows for fast tail release.
Ideal Conditions – A wide range of conditions from beach breaks to point breaks.
Board Types – Recommended for all board types.